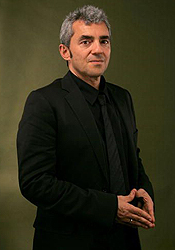 Flipping through the Financial Times earlier today (a British newspaper famous for the pink paper on which it is printed — "Give me a pink 'un"), I came across a profile of Miramax honcho Daniel Battsek that made for a pleasant read amid all the TPG and Bernanke mumbo-jumbo.
In a lot of ways the story is rather derivative and even stale. Nothing we've not read elsewhere, especially after an Oscar season that saw "No Country for Old Men," "The Diving Bell and the Butterfly" and "There Will Be Blood" tear through with the media latching on for the ride.
But Battsek is one of the good guys. Any ink, really, is good ink, considering what he's done with the company in the wake of the brothers Weinstein. And hey, he's a hell of a nice guy.  That's reason enough for me to pass it along.
Matthew Garrahan has the byline. Here's a look:
Making films that achieve critical and commercial success "is not rocket science…and it's not as complicated as some people make out". Still, it is not easy. "You have to be very sure of yourself when you acquire the material. You have to be very conscientious and detailed when you're working with your filmmakers. And you have to find ways of being able to make [the film] as quickly as possible."

The physical process of making a film is not of great personal interest. "I've never had the movie-making bug. Sitting on a set watching a scene being filmed doesn't turn me on at all. But I love being in a cinema watching a film. I love the creative side, working with filmmakers, writers, actors . . . and I love the production process."
Related Posts