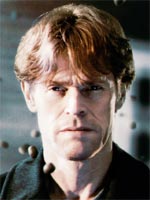 After wrestling with dodgy wireless setups for the better part of the evening, I am happy to tell you that I'm comfortably installed in an Old Town coffee shop with an immaculate connection, so I can fill you in on the day's doings.
Outside, it's one of those balmy Scottish summer evenings with woozy, disconcertingly long daylight hours (the upside of coming in this season) while hordes of kilted, tourist-baiting middle-aged men parade the streets playing popular tunes adapted for the bagpipes (the considerable downside).
Anyway, I'm even happier to tell you the big festival news of the day. In a major get for a festival that usually deals in more low-key fare, Lars Von Trier's "Antichrist" has made a last-minute appearance on the programme. Edinburgh likely benefited from the film's unexpectedly early UK release date of July 24 — otherwise you can bet the London Film Festival's Sandra Hebron would have been all over it. Score one for the little guys.
The film will have its public screening next Wednesday, June 24. However, I'll be seeing it at the press screening on Monday, and will do my level best to have a review for you shortly afterwards. Apologies to the Von Trier haters who thought the distraction of a festival might stem the "Antichrist" talk from my end for a while. I now await Monday with a mixture of breathlessness and extreme nerves.
Meanwhile, the festival officially kicks off tomorrow with a gala screening of Sam Mendes's "Away We Go" — but the press screenings started today. I had worked out a cunning plan to catch three films this afternoon, but a combination of travel delays, sleep deprivation (I've been up since 4 a.m. and am nodding off as we speak) and orientation issues conspired against me, and I wound up squeezing in just one.
It was the right one, mind you. Kathryn Bigelow's startling war drama "The Hurt Locker" so jolted my sensibilities that I don't think it would have been wise to rush off immediately to another screening — some films demand a bit of breathing space. I don't want to spoil the full review I have planned (time and slumber permitting) for tomorrow, but suffice to say it was an auspicious start to my festival experience.
Among the films that fell by the wayside today was Rebecca Miller's "The Private Lives of Pippa Lee," which has thus far attracted my interest more for its dazzling femme-centric cast (Robin Wright Penn, Julianne Moore, Maria Bello, et al), as well as the goodwill I still hold over for Miller's "Personal Velocity," than anything in it's drab, Lifetime-toned trailer. I'll try catch the public screening, but the word thus far suggests I won't be missing much if I don't.
I've discovered that one of the eccentricities of Edinburgh as a festival — in addition to the fact that a lot of the screenings weirdly take place in the depths of a cavernous commercial multiplex on the outskirts of town — is an odd overlapping form of scheduling for the press screenings, which makes for some tricky decision-making on my part.
For example, after breakfast tomorrow, should I opt for Abbas Kiarostami's Juliette Binoche-featuring experiment "Shirin," which has long held my interest, or a very different, but no less appealing proposition, in the shape of Australian claymation pic "Mary and Max?" What would you do?
Later in the day, I'll be attending the "Away We Go" press conference with Sam Mendes and John Krasinski, which obviously necessitates my attendance at the press screening that afternoon, but in turn means I miss out a films I have rather more personal interest in — Sundance fave "Sin Nombre." Of course, I could attend the "Sin Nombre" public screening on Friday, but that would then cancel out my one other opportunity to catch "Shirin" … you see the maddening pattern forming here?
Assuming, then, that my head stays screwed on for long enough, check in tomorrow for a full "Hurt Locker" review, and hopefully some nice morsels from the "Away We Go" junket. Beyond that, your guess is as good as mine.
Related Posts