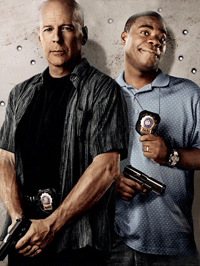 *All historical figures cited are adjusted to today's dollars.
Kevin Smith has never had a number one film at the box office and Martin Scorsese has ensured that he won't buck the trend in 2010. "Shutter Island" is the top box office performer for the second weekend in a row, dropping 46% to $22.2 million. That puts it firmly in the could-have-been worse, could-have-been-better category and with $75.1 million in the bank so far, Paramount can consider their decision to move out of October justified, particularly since I don't think the Oscars would have touched it with a 10-foot pole, but that's just me.
Smith's "Cop Out" did manage an $18.6 million debut, handily becoming a career-high for its director. For Bruce Willis, on the other hand, it falls somewhere between "The Whole Nine Yards" and "The Kid," amongst a bevy of forgettable titles. Reviews were scathing and drops should be harsh so it will be a close race with the $46 million of "Dogma" to the title of Smith's biggest hit. If Warner Bros. was using this as an audition for a bigger franchise, I think Silent Bob has fluffed his chance. It should also be noted that the figure is inflated slightly by the extra seats Smith has to buy for himself when he went.
Not too far off in third is "The Crazies," which managed a $16.5 million debut from nearly 700 fewer screens than "Cop Out," giving it the second-best per theater average in the top 10. Overture did a good job of raising awareness and interest amongst the target audience, which must not include me, because I never saw a single thing about it once, anywhere.
"Avatar" came in at fourth with $14 million, which is the fourth-biggest 11th weekend of all time behind "Titanic," "E.T.: The Extra Terrestrial" and "Aladdin." It also becomes the first film since "There's Something About Mary" to spend 11 consecutive weeks in the top five. Oh yeah, and it has now grossed over $700 million in the United States. That's more money than the 2009 gross national product of every country in the world but sixteen. Switzerland made less money than "Avatar."
Elsewhere, "Tooth Fairy" and "Crazy Heart" had strong holds near the bottom of the chart and "Valentine's Day" crept past the $100 million mark, despite drops that indicate audiences have decided it should be politely kept around roughly as long as that Valentine's Day card you got from your Grandma.
"A Prophet" had a strong start on nine screens, earning $170,000, but it still couldn't match the per-theater average of "The Ghost Writer," which earned $20,000 per screen in its second week.
I didn't see anything this week, as I feel myself settling into a little funk where I can't get motivated to go to the movies. Blame "Shutter Island," which still leaves a bad taste in my mouth whenever I think about it.
What did you guys see?  Here are the weekend's top domestic grossers, courtesy of Exhibitor Relations: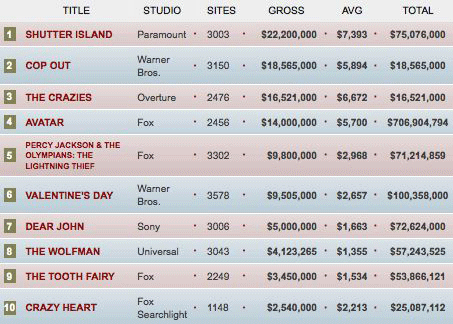 Related Posts